MILITARY SECTION
Our Military members and their families are very important to us here at CENTURY 21 Carolina Realty, Inc. Our Owner/Broker Wallace Thomas was a Loadmaster for the US Air Force Reserves for 30 years and served during Desert Shield and Desert Storm. Wallace Thomas holds the designation of MRP (Military Relocation Professional).
Some of our REALTORS have actually served in the military in the past. Currently, Zeth Jumps, REALTOR, is active duty in the US Marine Corps.
All of us here at CENTURY 21 Carolina Realty, Inc. know someone who is in the service, some are our family members, some are our neighbors. We understand the way of the military and will do everything possible to help you find the home you want and need when you arrive and help you sell it at the best possible price when it is time for you to move on. We also can network with CENTURY 21® Worldwide and help you find a home at your next duty station!
Feel free to Search our links to the local Military bases and services.
We are very proud to support our military troops and look forward to serving you with your housing needs!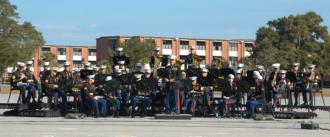 Links to Military Bases: